Our Story
Acorn Community Birth and Wellness Center was conceived, gestated, and born out of a community's love for natural birth and a birthing person's right to choose their own birth story! It was serendipity that Karen and Cristi met and found in their partnership a common vision to empower birthing families and offer them a safe place to find respectful, affordable, evidenced-based care. Aided by a tribe of families, birth workers, and community members who believe in the power of natural birth, Acorn Birth Center came into being in just 4 short months, and we celebrated our first baby born at the center on Christmas Eve of 2016.
We welcome your family into our family!
Meet the Midwives
Cristi Lewis, Co-Director/Licensed Midwife
Cristi is a Licensed Midwife and Certified Classical Homeopath who has been professionally practicing holistic therapies and hands-on healthcare for more than 20 years. She received her homeopathy certification in 2003 from the Homeopathy School International in Boulder, Colorado, and holds a B.S. in Biology from Northern Arizona University. She went on to graduate in 2014 from Maternidad La Luz, a bilingual birth center and midwifery school in El Paso, TX. She is a NARM-approved Preceptor to mentor student midwives, and she is an Approved Preceptor for the National College of Midwifery, the Midwives College of Utah, National Midwifery Institute, and Mercy in Action. In 2020 she became an international midwife by earning her Certificado de Competencia en Parteria, becoming a Certified Midwife in Mexico.

After birthing her two children at home surrounded by her midwives, family, and community, Cristi realized that the process of becoming a mother was one of the most sacred and transformational experiences a person can experience in this lifetime. As a midwife, she strives to support this transformation for her families in a healthy and empowered way. Cristi's love of the natural world and a recognition of the Divine in all beings has shaped her philosophy in caring for people on all levels. She specializes in women's and children's holistic health care, and can provide services in both English and Spanish. It is extremely important to Cristi that her midwifery practice strives to end the socioeconomic and cultural barriers to quality, affordable, respectful reproductive health care for all birthing families.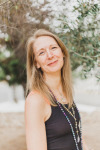 Annie Higdon, Co-Director/Licensed Midwife/Intuitive Body Worker
Annie is a wife and mother to three children. Her passion for holding space for healing transitioned into the birth world fluidly as she prepared for her own journey toward the birth of her first child. Annie deeply resonated with the Birthing from Within method of childbirth preparation and became affiliated with the model as a mentor in 2013. Her belief in biodynamic birth lead her to pursue the study of midwifery as she has a firm trust in the body's ability to perform its functions with very little to no intervention.

After starting on her path through midwifery in Los Angeles, Annie came to Fallbrook as if by magic and was more than elated to be invited to join the team at Acorn. Here she is continuing her studies and clinical internship as a part of her program with the National College of Midwifery. She is enamored with the ability to reach and offer choice to a wide demographic and to serve families from all walks of life. She believes that pregnancy is an opportunity to make positive changes and can allow us to be our best selves while being the conduit and guardian of blossoming life.

A graduate of Arizona School of Massage Therapy and Massage Therapist since 2004, she is trained in over 17 modalities of body and energy work. She believes that her experience in bodywork affords her the immense privilege of working with people, big and small, to release trauma. Annie uses her bodywork strengths at Acorn for mamas to find comfort and better positioning for baby prenatally, to navigate and support strong breastfeeding relationships in the postpartum, to enhance a baby's overall ability to thrive, and to help baby let go of restrictions at any time - because massage is great!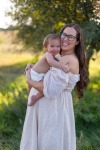 Brielle Rainney, Licensed Midwife
It's such a privilege and honor to be a midwife. To sit with women as they navigate the challenges and joys of pregnancy, birth, and the early days of welcoming their sweet babies is a gift every time. I've had this privilege to attend these sacred moments since 2018.

My introduction to midwifery is my own birth story. I was born at Best Start Birth Center, and grew up hearing my mother say "If I had one more baby, I would have just stayed at home." I now realize the magnitude of that statement, and how that shaped my perspective on birth.

I believe that birth is one of the most transformative experiences a person can experience. I believe that it's vital for parents to be well supported, have a relationship, and feel safe with their midwife.

My own family was built by midwifery. Through the power of out of hospital infertility treatments we conceived and carried my first born daughter. Although I had planned to welcome her earth side at home, her birth was a beautiful hospital transfer. I learned so many lessons about my own power in birth and motherhood, and strengthened my ability to connect with my clients who experienced hospital births.

I loved labor so much, we welcomed our second daughter in Feburary 2023. This time born gently in the comfort of our own home.

When I find a moment of spare time I enjoy spending it in my garden, growing food, and beautiful flowers, or riding my horses.
Sedona Lercara, Licensed Midwife
Sedona is an ardent and dedicated student of midwifery, focused on individualized care and connection. She received her degree in biological physics from the University of San Diego with the intention of going to medical school, especially drawn to pediatrics. A shadowing experience illuminated how little time doctors were able to spend with their patients and altered her interest in allopathic medicine. After being introduced to the midwifery model of care by her chiropractor, she took her first step into the birth world and became a doula.

Getting certified opened her eyes to the magic that new life brings to those who welcome it while becoming disheartened and burned out by the protocol-based care found in hospitals. Knowing there had to be a more honoring way to tend to the growing families, she dove into midwifery at the Nizhoni Institute of Midwifery and was enthralled with the holistic care that supports the expanding family unit and their unique needs as they arise.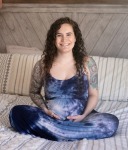 Kelly Traurig, Licensed Midwife
Maternity Leave May 2023-August 2023

Hi, I'm Kelly! I have been a part of the community birth world for 6+ years as a doula and student midwife, and am excited to continue my journey as a newly licensed midwife. My greatest joy is supporting families in welcoming their newest member in a gentle, loving way. In addition to midwifery, I am also passionate about shamanic medicine, and enjoy incorporating emotional & spiritual support into the care I provide. I believe in birth as a sacred process, which should be respected and supported according to a family's individual needs and wishes.

When I'm not at the birth center, I can be found meditating, SCUBA diving with my husband, traveling, or snuggling my two kitties. I am also excitedly awaiting the birth of my first child in June of 2023... or whenever he decides to come! I look forward to supporting you and your family in this amazing journey.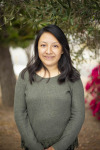 Yosselin Joaquin, Billing Manager
Hi, my name is Yosselin. I am blessed to be a wife and a mother of both a daughter and a son. First, I would like to thank God for finding an opportunity at Acorn Community Birth & Wellness Center. I believe that as women we have a great privilege that makes us worth more than precious stones; the great gift of being able to give birth.

As a woman of faith I love seeing the miracle of how everything from the mother's womb is wonderfully made by God.

I am a caring, empathetic and dedicated person. I take my job as the word says, "In all the work you are doing, do it heartily as if unto the Lord." I see my job as a way of helping others with the talents that God has given me. I am happy to serve all the moms in this center.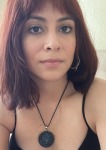 Irene Angulo, Intern Midwife
My name is Irene Angulo, and I am thrilled to start my journey as a student midwife at Acorn! My grandparents raised me in communal land know as "ejidos" in Mexicali, Baja California, Mexico. The earliest and most memorable memories I have are of my grandmother taking me to the community healer "curandera." I was an observant and attentive child, and these women's selfless nature to care for and heal their community made an impression on me. At age twelve, I left Mexico and came back to California with my family. I went to college and earned a BA in Biology from UC Riverside, intending to pursue pediatric medicine. It wasn't until I had a traumatic experience in the medical setting that I decided to pursue a more holistic model of care. I took my first steps into the birth world by getting my doula training through DONA and having served my first mama during the pandemic. I am now a student at the National College of Midwifery.

My biggest passion in life is to provide kind and individualized care for women and to empower them to have full autonomy of their own bodies. I am fortunate to be part of an amazing team of women here at Acorn, and I can't wait to meet you and help provide the best care for you and your family en ingles o español.
Nicole Moemai, Apprentice Midwife
Hi, I'm Nicole. I believe in providing the best possible care to each and every pregnant person—with respect, dignity, and kindness. I believe in the power of individuals and their families to make informed decisions about their own health and well-being, and I strive to provide evidence-based guidance and education that will help them make the best decisions for themselves and their babies, while maintaining autonomy of clients throughout their birthing journey. I also believe in the importance of building relationships and providing continuous support. I strive to take into account the physical, emotional, and spiritual needs of mothers, infants, and families, as well as the importance of creating a safe and supportive environment throughout the birthing experience. I am dedicated to helping all birthing persons to have a positive and empowering experience.

I have been married for 18 years to my high school sweetheart and we have 8 children. When I am not at the birth center, a birth, or studying you can find me hangin' with my kids, hiking, or playing at the beach. I am honored to be a part of your birth story and I am so excited to be a part of the team here at Acorn!
Hannah Beyer, Apprentice Midwife
As Jack Johnson said, "New life makes losing life easier to understand''. To know great joy is to know great sorrow.

My upbringing was guided by teachers, church leaders, cross country and track coaches but.. most importantly.. a semper-fi'ing chiropractor patriarch and a home-birthing, fast driving-loving tucsonan mother who raised 6 children. Our home was an ordered home and was filled with warmth, scripture/ prayer and painfully nutritious meals.

I am close to my parents and siblings and miss them all the time! Family is everything.
Fast forward to April 2020 when the world is falling apart: The mayor of Chicago makes a stay-at-home order and I am hurdling into an identity crisis while scraping my way out of the work hard/play harder lifestyle. I decided to leave the city and my salon career and, by the grace of God, I was able to enroll into a MEAC accredited Midwifery college, Mercy In Action College of Midwifery. The end was just the beginning- While being buried in textbooks the past two years, I was nourishing and coming home to my womb; slowing down, being curious about my period pain, breaking vegetarian/veganism, and learning body literacy. I also worked for my father as a doctor's assistant- honing my bedside manners as a medical professional.

I believe that each individual has a unique identity and unique purpose… yet, we are all walking around with belly buttons! Birth truly touches each and every single one of us. My hopes are to become a competent and a compassionate midwife. I feel a calling for Maternal as well as Paternal wellness and am stoked and honored to be serving individuals and families of the southern California area during my preceptorship at Acorn.

In my free time I love listening to music/ singing off tune, watching movies, and hiking with my wife, Gracie.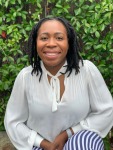 Zha-neé Johnson, Apprentice Midwife
Konichiwa,My name is Zha-neé!! I like to describe myself as the friend you didn't know you needed until you had it. I recently transitioned from the military, and am new to California. I was fortunate to be stationed in Okinawa, Japan for a few years. During that time I was able to discover my calling,of birth work. Knowing that, I began to research different opportunities and careers that I could find in the related field. Along the process I shadowed a few births and I said to myself I feel like I can do more than just provide emotional support to families. I Did a little more research and I discovered direct entry midwifery. The timing was perfect, because I was coming to the end of my military contract. I applied for the Midwives College of Utah and here I am!

One of the reasons that led me to become a midwife is that there are fewer Midwives and providers who are members of the BIPOC community. It means a lot to me that families have a person that they can identify with. My goal as a student, eventually a midwife, is to help to facilitate the educational needs and advocating within the disparities within the health care system.

While doing my apprenticeship at Acorn, I plan to soak up as much information I can from my mentor Cristi and the ladies here, as well as offer my services in birth photography. When I'm not at Acorn I can be found spending time with my husband and two sons, weight lifting, taking pictures of beautiful scenery, and of course EATING!! (but I'm not supposed to mention that last part). I look forward to meeting being the helping hand that you didn't know you needed.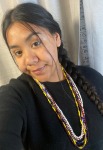 Shayla Gomez, Apprentice Midwife
Sending positive energy to all my pregnant mamas and your families.

Hi, my name is Shayla Gomez. What brought me into this beautiful path in my life was my second miracle baby due to being able to have a natural VBAC. I'm currently a student at Indie Birth Midwifery school learning unique holistic medicine. While being here at Acorn, I will be absorbing all the nitty gritty knowledge from all the birth workers here at Acorn.
I'm very thankful for my Jefa Cristi Lewis allowing me to be one of her students and appreciate these beautiful birth workers at Acorn.

As a student midwife at Acorn I'm here to support your birth plan and I believe in creating a strong connection with my pregnant mommas to help you feel safe in this positive environment.

I have been with the love of my heart for 4 years and we created 2 miracle babies. When I'm not at the birthing center, you can find me in the kitchen cooking for my family, taking my kids to the park, going to the gym and meditating. I am glad to be a part of your beautiful birth journey and I look forward to seeing you at the birth center.
Lisa Montero, Apprentice Midwife
Hello friends! I am thrilled to be able to share with you my story of how I came to find myself in the beautiful space of midwifery. I am a mother of five - four I birthed and my niece I adopted. I am so grateful to have been able to have had a natural water birth for all of my births. Each one of my children has brought me closer to figuring out what I want to be when I grow up. My first was born at Best Start Birth Center. Then my other births were at home. My last baby came so fast that my husband was lucky enough to be able to catch and care for me and the baby until our midwife arrived. I have had such wonderful experiences surrounding my pregnancies and births that I have felt called to be able to share the joy of the natural birthing experience with other families.

My background is diverse as I pursued whatever career I thought sounded fun when I was younger. My college major changed from Marine Biology to Theater Arts to anything in between. I eventually earned my BS in Psychology from Portland State University with the intention of pursuing Medical School, but Western Medicine was never the right fit for me. I was studying Traditional Chinese Medicine and Massage Therapy at the Pacific College of Oriental Medicine, but life got in the way of finishing the program.

I had my first child before I joined the Army as a medic. I had my second child while fighting with my leadership for my right to be able to have a homebirth. I had to fight for my medical coverage during that entire pregnancy before I was able to be reimbursed for the expenses that I paid for to cover the care of a midwife. That fight ignited a spark in me that grew into a passionate fire to support other Service Member families with the desire to have the birth of their choice.

In my last two years in the Army I spent working for a Pediatrician specializing in newborn visits and lactation consultation. After ten years with the Army, I found myself lost in my transition to the civilian workforce. It happened by chance or by magic that I came across Acorn Community Birth and Wellness Center in my search to find my ultimate career path. I am elated to be starting my studies with the Midwives College of Utah and my preceptorship with Cristi. I hope to be able to complete my studies in midwifery and finish my doctorate in Chinese Medicine. I would love to be able to offer Acupuncture services to families seeking natural fertility options.

In my fleeting moments of free time, I love gardening, woodworking, playing tennis, rescuing dogs, and make resin art furniture and breastmilk jewelry. I look forward to meeting all of you and your wonderful families and sharing in your journeys to motherhood and beyond.